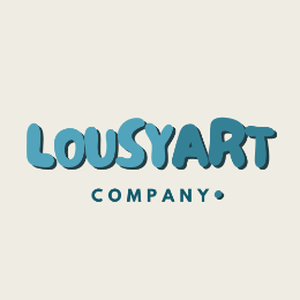 About Me
Here's my whole life story on how I found art.
My name is Louella, or Lou for short. I've been doing art since I was super duper young, starting at the age of 10. I've been doing all sorts of visual art for a long time, on and off! I started off when I was 10, tracing certain images and learning how to draw from them all on my own. To be honest, I don't remember much when I was 10 years old, but I knew I wanted to get into art when I got older...Little did I know.
When I was 12 years old, I was a very hard-headed gamer child. I was intrigued by the artwork that could be created through videogames. Minecraft was hands down the biggest one, and that is where I started my love for Minecraft artwork (cheesy I know). I didn't do much with it at the time, I just played Minecraft religiously for 8 hours a day. 
At 14 years old I became interested in digital art, and that's where my love for graphic design began. I started playing around with certain software systems, such as Photoshop, Illustrator, Blendr and Cinema 4D. I taught myself how to use those systems and started doing small free commissions for friends! When I was 15, Minecraft PVP was HUGE…Which meant that everyone was into making YouTube videos or streaming on Twitch. Which meant that people needed profile avatars, thumbnails, profile banners and stream logos! You can see a few samples of my artwork in the "2015" tab. I became popular within the Minecraft community and got asked to do thumbnails for larger Minecraft content creators, which at that point; I started charging for commissions! It was a huge success over the summer of 2015. 
When I turned 16, I retired playing videogames which meant that I retired doing commissions and digital art to focus on high school and sports. Sometimes I regret it.
As the years went by, I was very slow on getting back into art. When I was 18, I started doing some small projects in high school to grow my portfolio (in the "2018" tab), since I wanted to go to University for Graphic Design & communications (it didn't happen). Then I lost my passion again for 3 years. I didn't have any inspiration or motivation anymore. I had a huge creative block for 3 years. 
Early 2022 (21 years old), I realized that I could do so much more than digital art, I had more potential than I thought. I realized that not many people had the same unique art ideas that I did. That motivated me to start my business Lousy Art Company. I had amazing friends motivate me to start this small business, and it was not easy.
I had the help of a few friends deciding on a name. Most of them voted for Lousy Art Company because my name is "Lou". (get it?! Ha ha ha) I make custom shoes, custom water bottles, painted canvases, denim clothing, and of course; digital art. I am Calgary, AB Canada based, but I can take custom orders anywhere around the world!
I use high quality leather paints and high quality acrylic paint and really strong sealer to finish the product. Some of my pieces take 10 hours, and some take up to 35 hours. I do a bunch of different styles and put my own twist to it. 
I make sure to take you through the step by step process. From the design, to the draft, then the process and then the finished product. Everything is HAND PAINTED, hand drawn and all unique pieces. The water bottles are dishwasher safe (tested by a good friend of mine).  
CHRISTMAS COMMISSIONS: I started taking commission for the Christmas season beginning September.
PRICES VARY!! Depending on the design they can range entirely. I do require a 50% deposit, and if you need it shipped; you'll be responsible for paying the shipping fees! 

If you want to see some more of my work, please feel free to check out the rest of this website! If you're interested in any commissions, please DM me on Instagram Lousyartco 
Thank you all so much for your support, and I hope I can make some things for you guys!!